Dancestors Genealogy
Discover Your Family History
Your Narrative Family Legacy book provides you and family members with historical insights. Your family history has a lot of detail to it, so the research on where you came from helps you navigate your origins. In addition to this personalized book, we also provide you with various genealogical files and materials. These include an online ancestry tree, printed pedigree charts, DNA ethnicity, cousin contacts, and so much more.
When you contact us today, you will learn so much. No matter where we are in our research, we will provide you with updates as to what is going on.
Since I was a young boy, I always found it fascinating to hear stories about my ancestors. I would listen to my grandparents, and great uncles and aunts tell stories of the past. I inherited a love for genealogy from my mother, who began researching our family's history after she retired in the late 1980s. In the early 1990s, I took up where my mom left off in her research. Due to the traveling nature of my career, I was able to fill in more of the family tree through letter writing, phone calls, and visits to libraries, historical societies, and family members long before the internet came along.
Today these research techniques are still relevant but digital resources have greatly enhanced the Genealogist's tools. I am fortunate to have pursued genealogy at an earlier age when the story-holders were still able to explain their history. Since then, many have passed away, and their stories are lost or diminished of fact. Let Dancestors help you get the real stories now!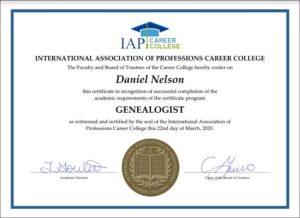 I have a certificate in genealogy from the International Association of Professions Career College and have researched and published many family legacies in the last two years. My wife, Andrea, is an integral part of the process as she is not so genealogy driven as she is passionate about the story. She serves as a great advocate for the non-genealogist wanting to peruse and absorb their family history without getting caught up in convention and minutia.
---
Industry
Category
Type
Professional, Scientific, and Technical Services
Other Professional, Scientific, and Technical Services
Both
---
---
Address

925 Southwood Drive, Highland Village, Texas, 75077

Phone

Email

Website